Raymond Echitchi is a post-doc researcher in Spain's National Distance Education University (UNED) in the field of applied linguistics, teaching English to Spanish speakers through technology.
"Basically what we do is we make sure that people have access to education even if they cannot come to university in person, and we develop different ways to actually make those people learn English.
We also really wanted to open the university to a wider audience, which is why we have developed Massive Open Online Courses (MOOCs) that we offer to people around the world. Through MOOCs we teach English to those people who might not have the opportunity to go to university. They can take those courses for free, at their own pace and can still end up learning some English."
In 2018 Raymond completed a PhD in English Linguistics at the Complutense University of Madrid, however it was upon beginning his post-doc in UNED that he realised the importance of incorporating technology into his research.
"Before joining UNED I was not really into Computer Science or any of such things. I would always do manual analysis and I would probably use software to identify concordances, but I never got into details of whatever natural language processing is all about.
Then I realised that we are moving into an era where technology becomes very important in whatever linguistics study you are carrying out. Everything right now is done not only from a linguistic perspective, but also from a computer science perspective, so all linguists are kind of getting ready to face that reality. That was not an issue six or seven years ago. When I started my masters degree about seven years ago, it was not necessary to know about computer science to actually be a good linguist. But nowadays it is virtually impossible."
Raymond's prior education and studies in English linguistics remain the foundation of his current research, even after his move towards technology.
"I carry out research in Critical Discourse Analysis which involves studying how people use language to manipulate others, how identities are created and reproduced in discourse, because when we talk about identity it's never something that is biological or genetic, it's a social construct.
And people always make use of language to construct those identities."
After hearing about the LITHME scheme and their Short Term Scientific Missions from his boss in UNED, Professor Rubén Chacon, Raymond was inspired to do a ten-day STSM in the Department of Computer Science in the University of Sheffield, under his host Professor Aline Villavicencio in October.
"The first five days will be aimed at networking, talking to people, telling them about my research, asking them how they can help me and how their research could contribute to making my research better.
The second half of the stay is going to be devoted to drafting an article that I want to write. That article is related to a MOOC that Ruben and myself have been running for three or four years.
We want to analyse forum entries from a Natural Language Processing perspective, by carrying out content and semantic analyses of those entries and come up with students' general perspective on the course."
The Short Term Scientific Mission also offers a perfect opportunity for Raymond to indulge in some of his own personal interests.
"I love travelling! I love talking to people about culture. I'm a pan-Africanist. I love talking about Africa. I love politics. And, finally, I like sports. I actually wanted to be a footballer but I had to choose at some point because you can't really go to university and focus on education when you're a footballer. I was a very good footballer, believe me."
Raymond isn't only looking forward to his STSM but he is also excited about the future of linguistics and technology.
"The future is bright! All linguists will be programmers at the same time. This is something that has been taking place for a long time.
In Germany, for example, they have an unusual university system where you can study linguistics and Computer Science. You can actually major in Linguistics and Computer Science at the same time! So I'm looking forward to a time when this is going to be normal."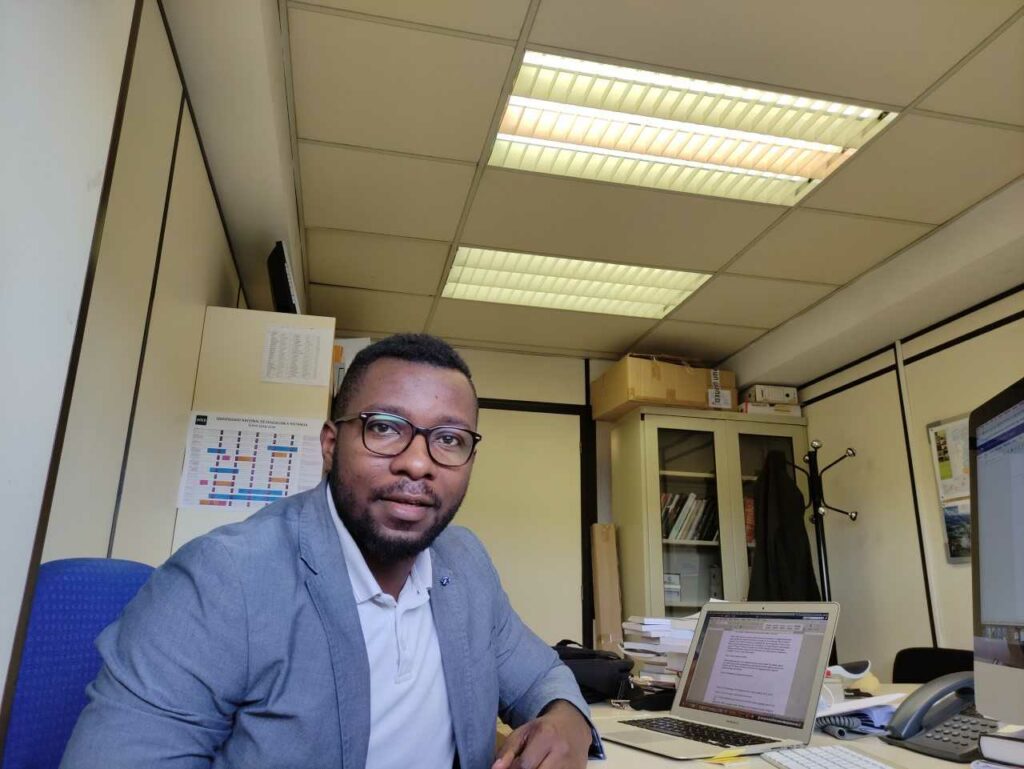 Raymond Echitchi will do his STSM in the University of Sheffield for ten days
and his scientific report will be published on the LITHME website after he completes his STSM.
 Raymond Echitchi was interviewed by LITHME intern Peadar Faherty.