An active member of the LITHME Network, Olga Turcan is very excited about her Short Term Scientific Mission that took place at Potsdam University, Germany. The linguist is thrilled to learn about natural language processing and computational linguistics during her visit, as this is a new field for her.
"The twin goals of LITHME are to prepare linguistics for the human-machine era and to inform technology specialists with linguistic insights. In this context, my Short Term Scientific Mission visit enabled me as a researcher in Sociolinguistics to gain knowledge in Computational Science, to create bridges and collaboration between researchers and to reinforce interdisciplinary approach to important topics as Artificial Intelligence or Human-Robot Interaction, in particular the discourse of researchers and practitioners themselves involved in cutting-edge international AI projects, such as COCOBOTS."
The collaborative work of the Working Group 6 on "Language Ideological Concepts in the Human-Machine Era" is closely related to Turcan's research interests and expertise, e.g., language policy, multilingualism and critical discourse analysis. Other working group members encouraged her to study computational linguistics. This would allow her to meet and collaborate with researchers from this field new to her.
Turcan's goal is to develop a sociolinguistic approach to research issues on verbal human-machine interaction that she hopes to realise through different objectives during the fieldwork. She travelled to Potsdam with an enthusiastic and open mind.
Turcan took part in the "Foundations of Computational Linguistics" Lab, headed by Prof. David Schlangen. The goal was to learn computational linguistics through comprehending the main research issues and results, such as "Natural Language Understanding as an Interactive Process" and "Natural Human/Computer Interaction". Turcan is also doing field observations in the framework of the current joint French-German AI project of the Lab, entitled "COCOBOTS: Natural Language Programming for Conversational Cobots". This gives Turcan the possibility to explore the discourse on Artificial intelligence and Human-Robot Interaction.
In the second part of her scientific stay, Turcan conducted interviews with researchers with focus on the subject of AI ethical norms and their limits, or what crossing them means according to their opinions and experiences. She is hoping to look into how the notion of "language" may change in a digital age, if digital technology will impact linguistic concepts, and even beliefs about language.
Turcan comments on how different members of the society perceive natural language technologies. The way they express themselves, their social or sociolinguistic representations, co-construct the "reality" of natural language technologies and determine the evolution of technology. Turcan remarks that to do a field survey to collect these kinds of discourses, and use critical analysis on them, could be an insightful interdisciplinary project.
"Given the progress of technologies, multi- and interdisciplinarity in research on topics about languages and technologies is more than necessary to strive to meet societal challenges for sustainable development. In this sense, I would like to engage in this type of project, with colleagues from Potsdam University and from the LITHME network."
Turcan thinks that a future follow-up collaboration with Computational linguistics Lab will enable her to contribute her findings and in a joint publication that she hopes will help generate guidelines for an equitable development of emerging language technologies.
"Developing a future collaboration with the Lab and a research agenda can make a contribution to our better understanding of language ideologies, beliefs and attitudes and of societal consequences of our collaborative work, in the context of the human-machine era. In this context and beyond, keeping in touch with Prof. David Schlangen and his team will allow us to identify other ideas for future collaboration."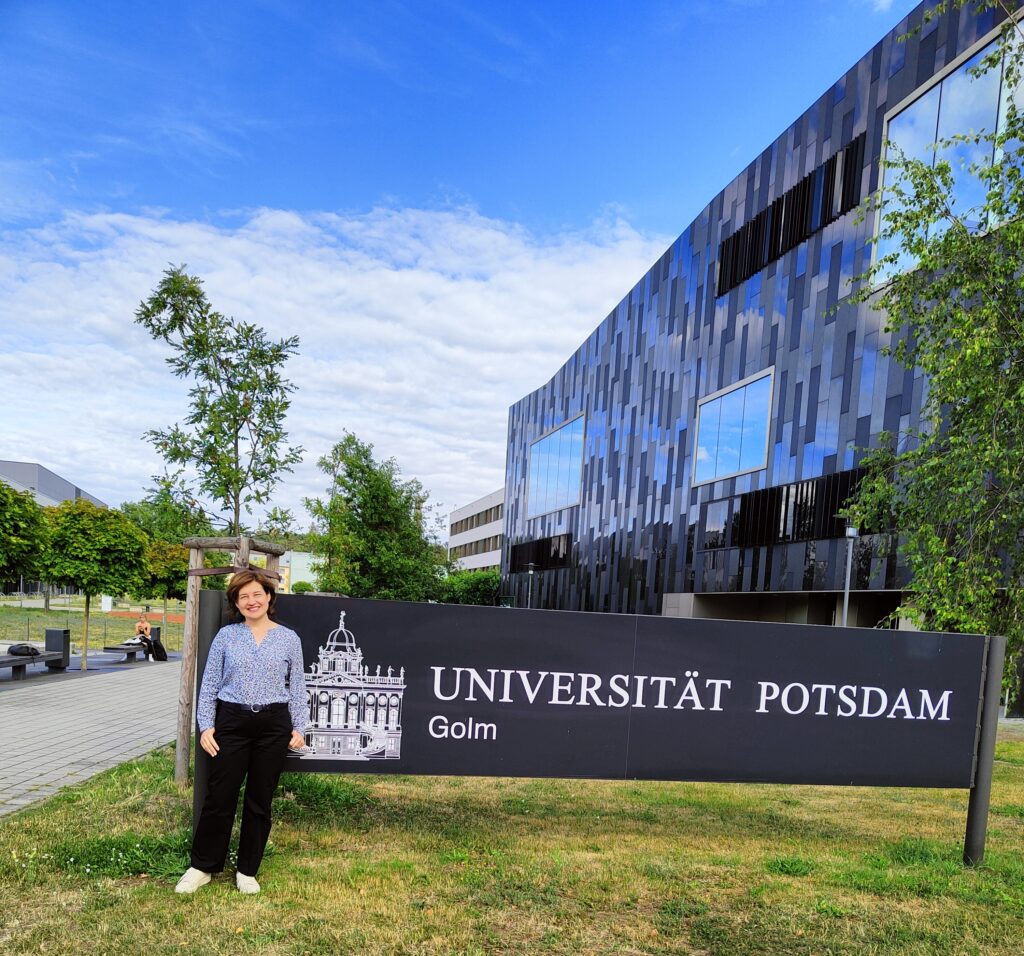 Olga Turcan visited Potsdam university for four weeks and her scientific report will be published on the LITHME website in Autumn 2022. Turcan was interviewed by LITHME assistant Enni Kuusela.