The 3rd LITHME Training school took place in Kosovo on June 5-9, 2023, bringing an incredibly diverse group of people from various fields, research interests, and career stages to the University of Pristina in order to learn and connect.
The LITHME Training school was the first such COST-funded event in Kosovo and most of us were discovering this vibrant and welcoming country for the first time. It was a great opportunity and a true delight to experience the friendly and welcoming Kosovan culture which values openness and hospitality, despite a painful and tumultuous past. Linguistically and culturally diverse, Pristina was a perfect gathering place for 34 trainees that flew in from 19 different countries across Europe and beyond.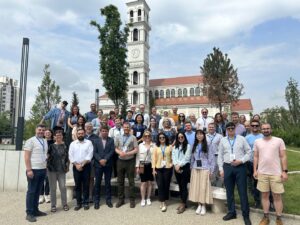 Group photo of LITHME TS 2023 trainees and trainers
The main goal of any COST Action is to provide space and time for collaborations and interdisciplinary discussions, thus boosting careers, strengthening research, and ultimately advancing science. The LITHME training school always sets up an ideal environment for networking: from the very first get-to-know-your-neighbor exercise to practical group activities, plentiful coffee breaks, long group lunches, and the epic training school dinner. The location played a key role this time, as Pristina boasts many excellent and affordable restaurants. There was a tangible delight in eating lunch at a different place with a different set of people every day of the school week.
Since five days of the training school fly by rather quickly, the pecha-kucha presentations provide a great way to quickly introduce a few dozen people to each other. In fact, they have become an integral and beloved part of each LITHME training school, although mildly stressful for the presenters. These short and very visual presentations allow people to talk about themselves while being as creative as they wish, and serve as a great starting point for networking and establishing contacts.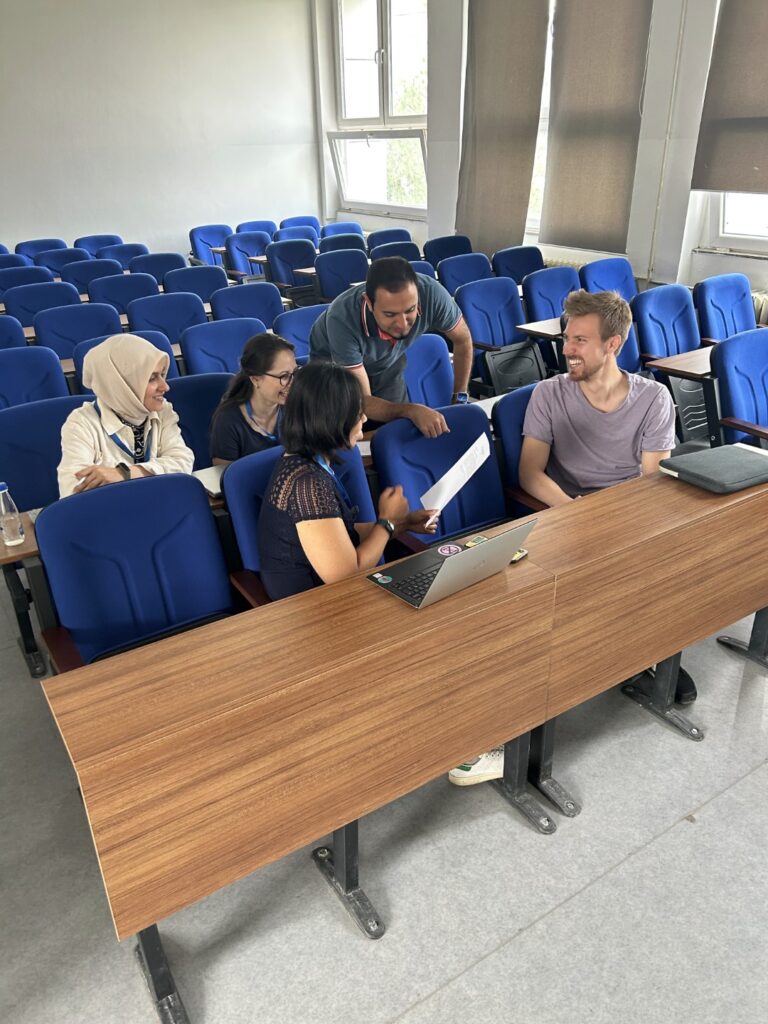 Aside from networking, interdisciplinary knowledge exchange is the second essential component faithfully promoted by COST Actions. The LITHME Training School is a comprehensive and immersive five-day learning experience. It explores the latest advancements and key highlights across various disciplines, all converging towards a shared exploration of the future of language and language-related professions in the human-machine era.
This time, Large Language Models like chatGPT were in the center of many discussions. Do they really understand language or are they just "stochastic parrots"? What does it mean to understand language anyway? In addition to explaining the fundamentals of Natural Language Processing, the Computational Linguistics Working Group (WG 1) chairs discussed the problems of safety, energy efficiency and proper evaluation, sensitizing the trainees to the Eliza effect – the unconscious human tendency to anthropomorphize computers.
Algorithms that produce text, be it for machine translation or any text generation, learn to do so on the basis of large training corpora. But is it a fair representation of language or rather a small, selective, standardized subset of it? A joint session by WG 6 (Ideologies, Beliefs, Attitudes) and WG 8 (Language Variation) presented many burning issues from the field of sociolinguistics. The trainees were made to ponder on what language ideologies they hold true without realizing that they might be a social and/or political construct. The impact of technology on language variation and our ideas of what is right was actively discussed as well.
Who owns the data that is used in language technology? It might not be the most salient question when it comes to the terabytes of English texts scraped from the internet. But what about the origin stories passed down by generations in small indigenous communities, whose language is on the brink of extinction? Can technology save a language? And ultimately, who is language technology for? Yet again, WG 3 (Language Rights) and WG 4 (Language Diversity, Vitality and Endangerment) stirred emotions and opened people's eyes to some big questions that might have been generally overlooked.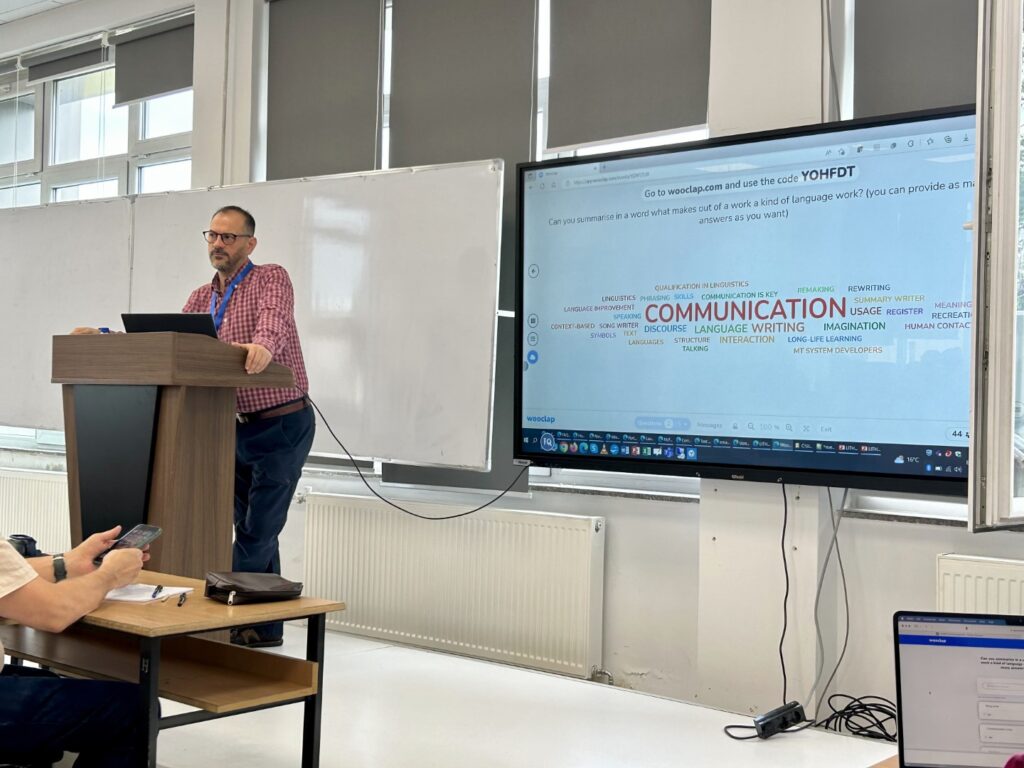 Interactive sessions are at the core of all LITHME training schools. WG 5 (Language Learning and Teaching) and WG 7 (Language Work, Language Professionals) helped trainees reflect on what constitutes language work, how many language professions there are, and how technology affects language work and language learning. WG 2 (Language and Law) prepared a practical exercise sketching an app while paying attention to the importance of legal design as a guarantor of fairness and equal access.
The industry talks – an integral part of the LITHME training schools – gave a glimpse into Kosovo's active tech scene. The attendees learned about the first Albanian spell and grammar checker, https://drejtshkruaj.com, as well as https://lexdoks.com, the first smart search engine for Kosovo's legal system. Additionally, a representative of https://crossplag.com/ talked about how to battle plagiarism in the era of machine translation and chatGPT.
The training school ended with an epic team debate on the pros and cons of language technology. Two groups of volunteers led by the Action's chairs brought up many good arguments to praise and debunk the state of modern technology. On one hand, language can be spread without launching bloody wars; on the other hand, technology helps spread disinformation and weakens the human ability to remember things. The debate was rather heated but everyone in the teams and the audience had great fun.
Overall, the 3rd LITHME training school was a great success.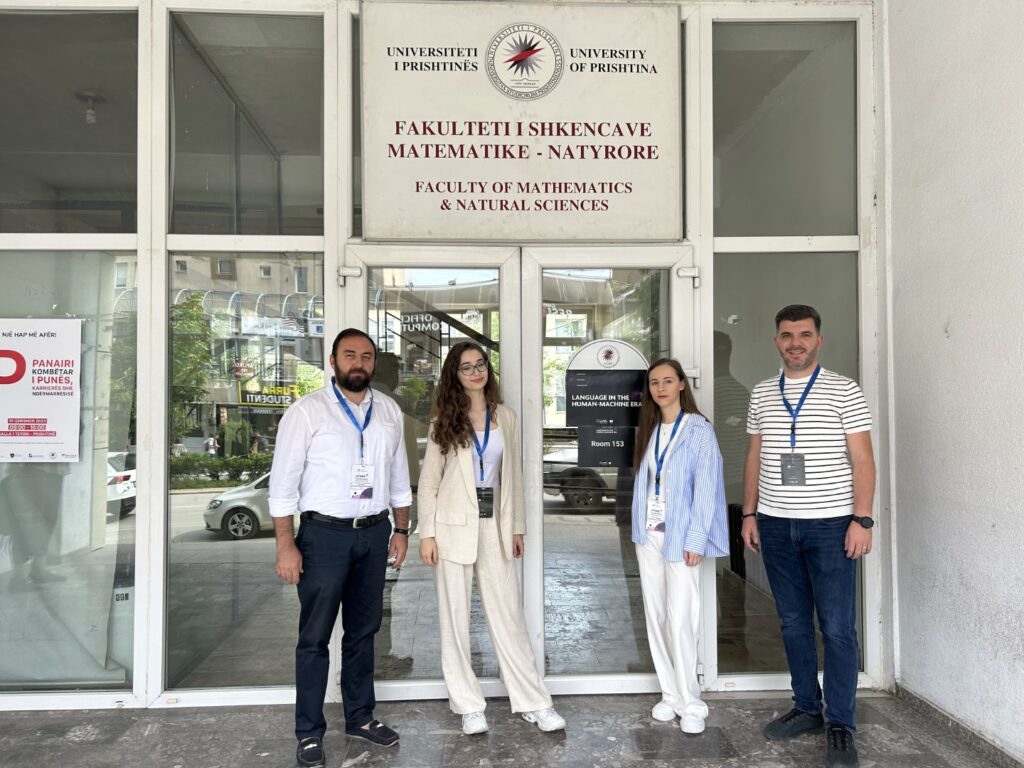 A big thanks to the amazing local team at University of Pristina led by Eliot Bytyçi
Teaching materials will be publicly available on our website August 2023. Additionally, the training school was well covered on Twitter and Instagram (see the dedicated Instagram post as well as highlights TS23).